Overview
X3M is an AdTech product that allows mobile game publishers to optimize their ad monetization strategy. Provides mediation and management services for AdOps and publishers.
For this project, which I spent a year and a half working on, I was able to carry out UX strategy tasks, analysis and creation of functionalities, iteration with stakeholders, user testing, interviews, flows, wireframes, low and high quality designs and functional prototype . Additionally, I followed up with the development teams.
Type
Product Design
Contribution
Product Designer
Design Strategist
Platform
Desktop
Task
Benchmarking
UX Research
User Tests
User Flows
Wireframes
UI Design (Design System, High design and Prototyping)
Documentation
Follow up with devs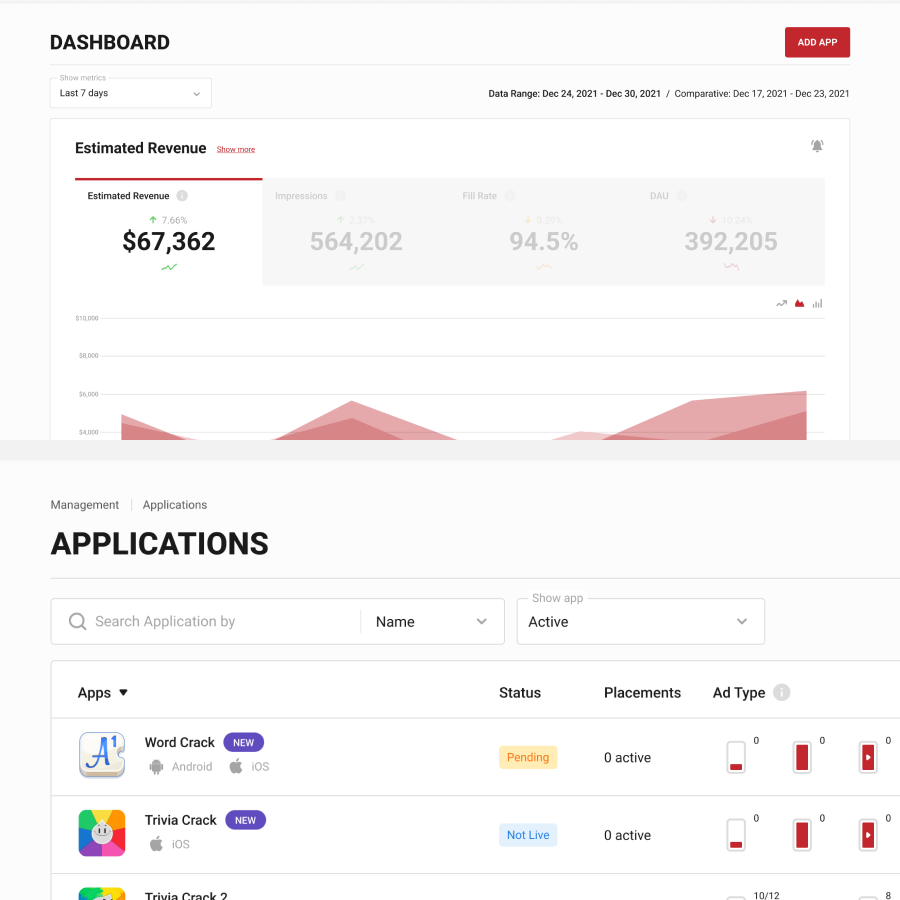 The challenge
The functionalities of this tool work from an abstract perspective where the important thing is the clarity and information design of the data. The team's challenge was to find a balance in simply displaying a large amount of data, very complex and with infinite layers, generating a pleasant and usable experience.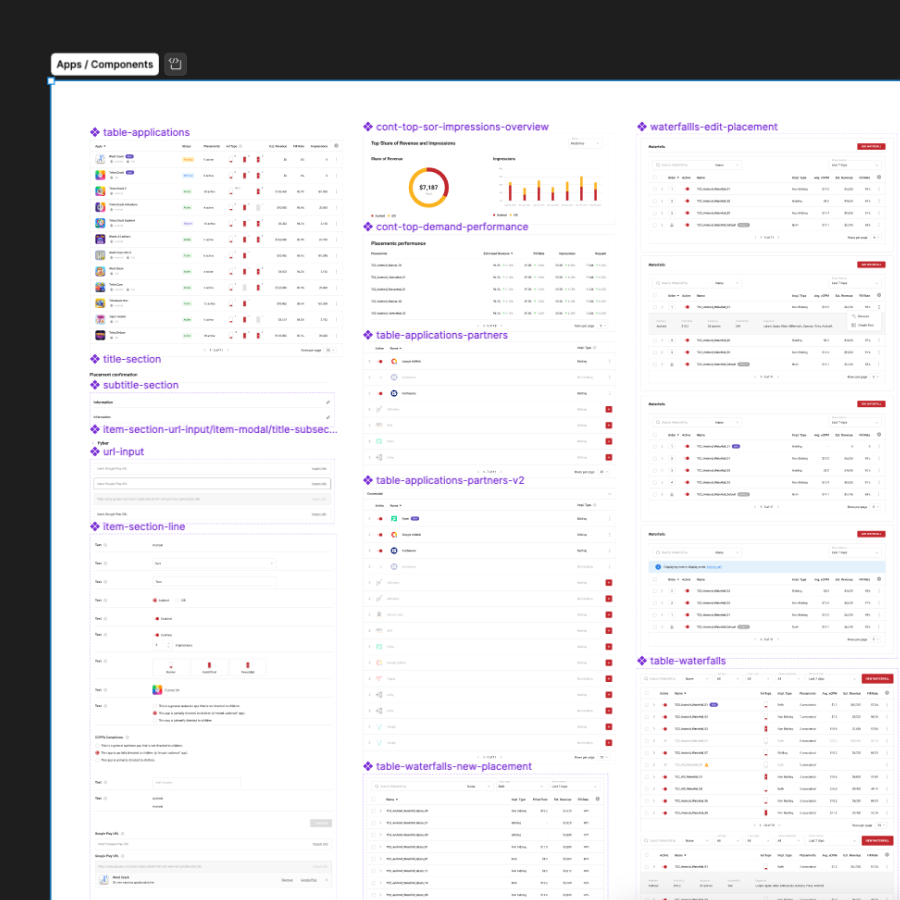 Research and analysis
Adtech managers are not many, so the opportunities for improvements and new functionalities are many. Hard work was carried out to search and understand the management of advertising spaces. As well as, testing with AdOps users, asynchronous questionnaires and feedback within the platform.
The analysis of a new functionality required a global view, since each aspect of the product had repercussions on the strategy and, consequently, on profits.
Benchmarking
Functional analysis
User flows
Wireframes
Usability testing with AdOps
Asynchronous quizzes
Hands-off documentation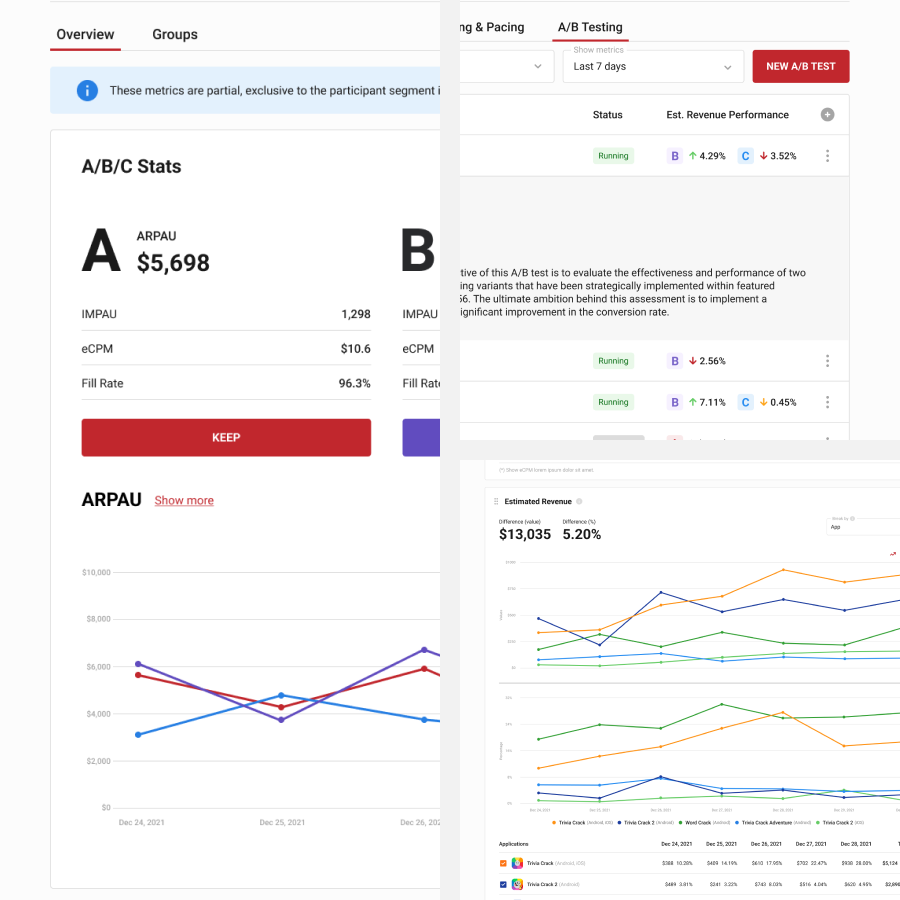 Design
Data layout should be precise and as least overwhelming as possible. Incorporating complex functionalities, to perform and understand. This is why the design of this product was thought out in detail, considering the entire platform, the ways in which the user is accustomed to using it and, most importantly, clarity and simplicity.
And we don't just think about AdOps, we also think about the development team. We create a broad, complete and understandable Design System. Daily iterations were carried out with the teams, designating owners open to any questions to facilitate the implementation. All this accompanied by documentation that details each of the functionalities.
Design System
Interface design
Prototyping
Hands-off documentation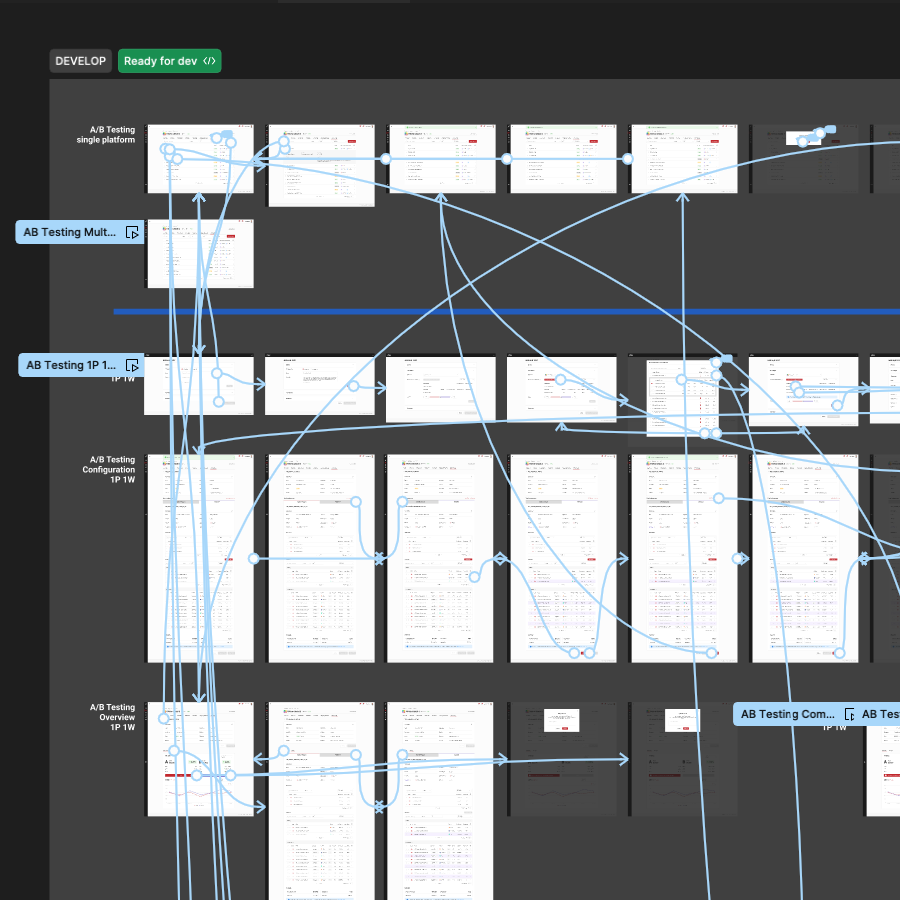 Conclusions
During the time I was working for X3M, great advances were made that helped the solution mature. New highly complex functionalities were created that were validated by real users and through their feedback we were able to improve. I was able to implement agile processes to improve iteration with different teams and design work. The new, orderly and complete Design System was implemented, which helped make its implementation more effective and improved the work of the developers.
It was a great challenge, we managed to deliver a solution that looks good, easy to use, clean and with highly complex functionalities and a large amount of data.